Archive for
November, 2012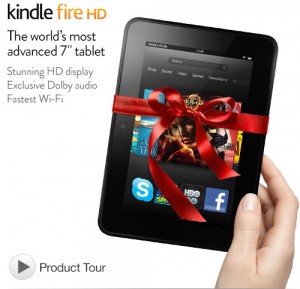 I was honestly trying to decide between a Google Nexus 7 or the Kindle Fire HD. For all intent and purposes, it is a very close match between the two. There's not even a differentiation on price. Ultimately though I had to consider who my target audience is for this special gift… my mom.
Like some baby boomer parents, if not most… being technology savvy is not at the top of her list so I kept that in mind when thinking of what kind of tablet to get her; she's been asking my thoughts on which one to get for a couple of weeks now so I know it'll be a perfect gift. I could have gone with the iPad or the iPad mini, but honestly price factor was a concern given how much of the features my mom would probably utilize. So it came down to either the Google Nexus 7 or the Kindle Fire HD.
Sure I can get into the technology specifics as far as processor, ram, etc. However what really matters most to me would be the simplicity of the interface and if my mom could adapt to it easily. This is where I feel the Kindle Fire HD really has an advantage. They have an integrated app and media eco-center built right into the tablet. I know Google has been pushing Google Play and whatnot, but I feel the integration of Google Play isn't as simple and straight forward as what Amazon has developed with their Amazon Prime program and the integration into their tablets.
After some thoughtful consideration, I'll be getting my mom a Kindle Fire HD Tablet for Christmas.


You know me, I'm always keeping an eye out to make best use of my finances. Today I received an email from ING Direct about their Black Friday Special… $125 for opening a checking account. I've had my savings accounts with ING Direct since I was a teenager. Today's interest rates have barely any return, but ING Direct is still leaps higher than the big mortar banks. Additionally, I love their web interface. It's fairly easy to add additional savings account. I set up a sub-account for each one of my goals.
So how do you get an extra $125? Easy (no huge deposit required)… just make 10 purchases with the debit card they send you. From the looks of it, there's no minimum purchase per transaction so I'm planning on buying some small lunches to meet my minimum. If you don't have a checking account yet with ING Direct, open one up by Sunday, Nov 25 and be on your way on earning an extra $125. Also if you use my referral link below, you gain an additional $25 if opening a savings account as well. So overall, you walk away with a $150 bonus.
Click here to Open an ING Direct Account and Score Your Bonus
I have not joined a gym yet in order to continue my swimming and thus I'm still depending on a weights regiment with light cardio for my progress towards my goals. Overall I've made steady progress but I'm not on track to meet my end of the year goals.
Similar to last month, I met some of my goals but not others. I did quite a bit more pushups and situps this month that probably led to the measurement increase in my chest and neck (at least I think so, don't know what else it could have been). I set last month's goals in order to be on track to meet the end of year goals. With that said, although I lost 0.5in in my waist, it was no where near the 1.5 I had hoped to have lost. In the same manner, although I've been doing weights, I have not been able to grow the size of my arms; perhaps next month my efforts will begin to take shape in that department. My pushups as well as some contribution from my weight routines have led to a 0.5in increase in my chest which I'm overall glad about. Ironically, either I'm losing quite a bit of muscle, or my thigh keeps hiding fat because every month when I think it can't get any smaller, it does.
Overall, even though I didn't meet all my goals for the month, I'm satisfied that I'm still on the right track. The statistics keep improving in a manner that will lead to a more fit lifestyle. At this point I must say that there's only a small chance that I'll still meet my end of the year goals but I will be very close to them.
| | | | | | | | | | |
| --- | --- | --- | --- | --- | --- | --- | --- | --- | --- |
| | ABDMN | ARMS | CALF | CHEST | HIP | NECK | THIGH | WGHT | FAT% |
| PREVIOUS | 32.0 | 11.0 | 12.75 | 36.75 | 35.5 | 14 | 19.25 | 125.8 | 9.8% |
| GOAL | 30.5 | 11.75 | 13.0 | 37.25 | 35.0 | 14.0 | 20.0 | 125.0 | <=9% |
| ACTUAL | 31.75 | 11.0 | 12.75 | 37.5 | 35.0 | 14.25 | 18.75 | 125.0 | 9.2% |
See Complete Personal Fitness Log
Notes to Consider
I should remember that even if I don't meet my goals, I should not be discouraged given that I've still made progress and moving in the right direction at a time that it's so easy to go the opposite way.
My weight seems to be dropping consistently. If it continues at this same rate, I'll fall below my end of the year expectation. At this point it's more about gaining muscle weight to offset the decrease in fat. During my senior year in high school I weighed 118 and that was after a couple of track/cross-country seasons.