Posts tagged
email marketing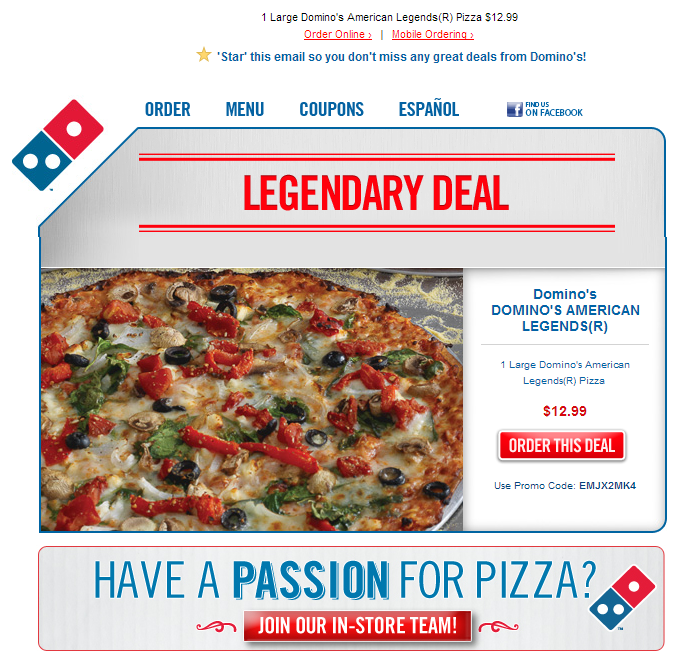 I eagerly awaited the pizza email blasts I would be receiving today. Pizza and beer go hand-in-hand with the Super Bowl. Already this morning, my first thought to myself was, "Buy Pizza."
The Domino's Pizza Email Blast
The first email I received this morning at 11:36am CST was from Domino's Pizza with the subject, "Score a great deal today from Domino's."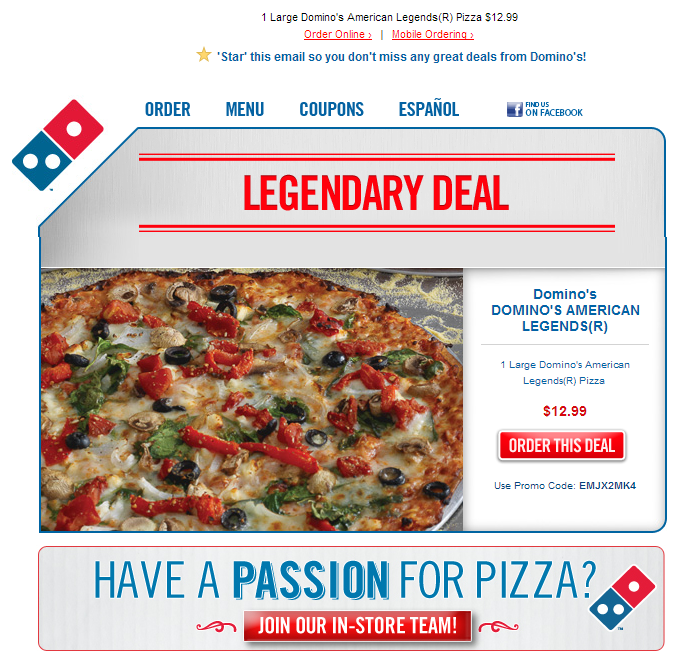 First Impression
I wasn't really that amazed by this email blast. Nothing really drew my eye, well except for that pizza. But even with that photo, the pizza doesn't look appealing. Perhaps if they would bump up the contrast and make the colors pop a bit more.
The emphasis of this email is the deal price of the Domino's American Legend Pizza. So why is the price so small and almost lost in the copy?
Why is so much space dedicated to a hiring call-to-action? I would imagine that only a very small subset of the email's target audience would actually be searching for employment. Dedicating such a large portion and driving attention away from today's promotion for a message that only applies to a small slice of the target-list does not make sense. That space could have been better used in my opinion.
The relation between the Super Bowl and this email is a bit on the weak side. The only slight reference is in the subject, "Score a great deal…" Other than that, I don't see the email attempting to form a direct relationship between pizza and the Super Bowl.
The Pizza Hut Email Blast
I have to give it to Pizza Hut, the timing was perfect. While I received the email blast from Domino's at 11:36am CST, I received the one from Pizza Hut at 3:13pm CST. With the game only a couple of hours away, Pizza Hut sent out their call-to-action much closer to the decision making point.
Email subject: "$10 Any: Big Deal for the Big Game"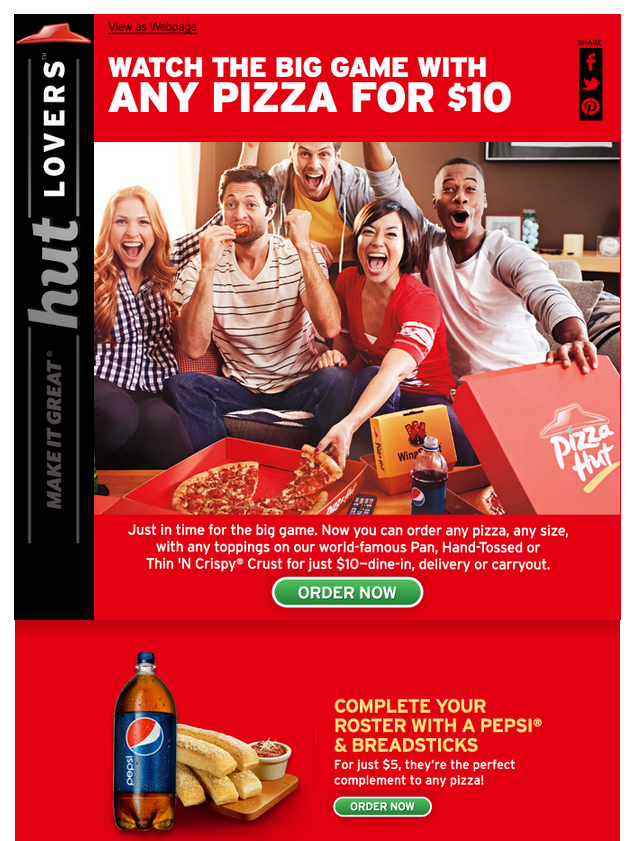 First Impressions
I prefer the subject line for Pizza Hut's, "$10 Any: Big Deal for the Big Game". Not only does it give an eye-popping prize for impulse buyers, but it also has a strong correlation with the Super Bowl. Pizza Hut's subject line made me want to click on it more to read the email blast versus that from Domino's.
I really like the design of Pizza Hut's email blast versus that of Domino's. It's simple, it's direct, and it pops. The colors work well together and the right elements have great contrast. "Watch The Big Game With Any Pizza for $10" is large and bold taking the center of attention as it should be. Not only does it stand out, but it repeats the promotion from the subject line.
In addition, I like the fact that the entire design of the email is focused on the "Big Game" and creating that correlation with pizza and the Super Bowl. The photo used of a group of friends watching a big moment in the big game while enjoying Pizza Hut is classic. The photo in this email leaves a much better impression than the one in the email blast from Domino's.
I also like the fact that Pizza Hut has an upsell in their call-to-action in the email. There was no upsell in the email blast from Domino's except if you considered the "Would you like to work for Domino's?" call-to-action. You don't see Pizza Hut trying to recruit it's email-list and correctly target the message for today,
Overall, Pizza Hut just gave a great 101 lesson to Domino's when it comes to email blasts. Not only was Pizza Hut's email blast more directly tied in with the Super Bowl, but the overall design, use of colors, upsell opportunity, and call-to-action was more refined and polished hands down.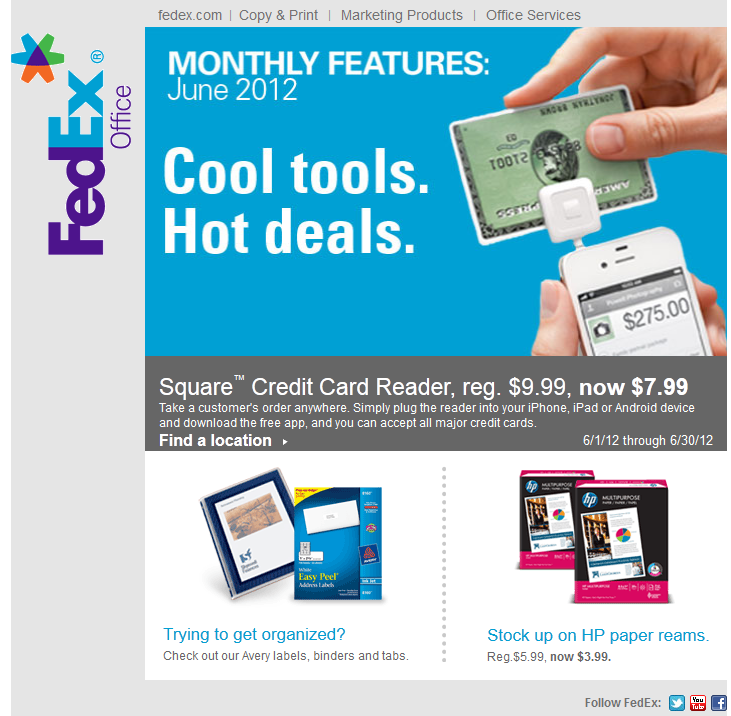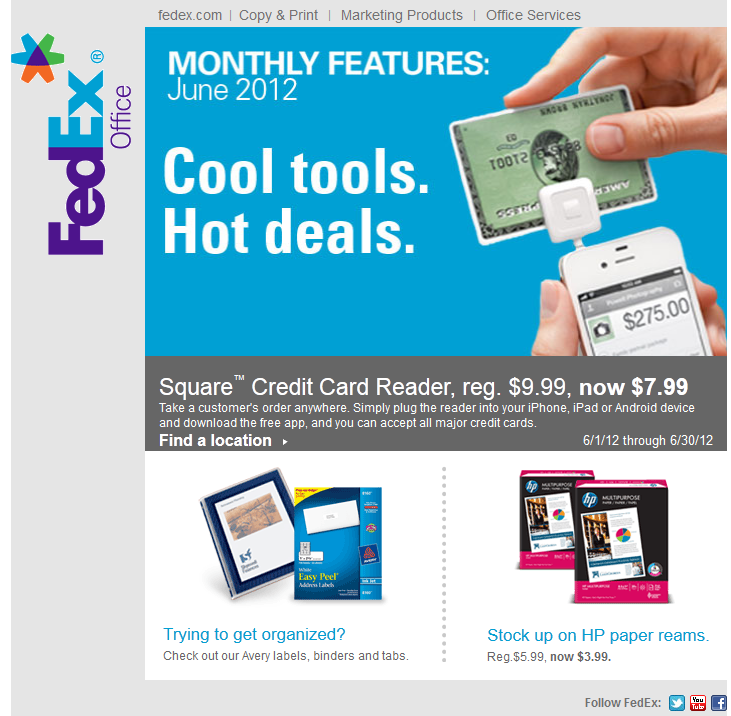 I received an email today from FedEx featuring a "special"…
$7.99 for a Square Credit Card Reader, discounted from their regular price of $9.99.
Hmmm, let me think about this… why not just get it for free from Square.com?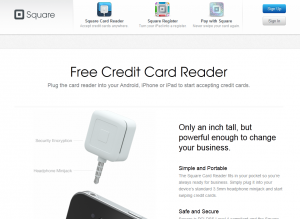 Square distributing via retail locations is nothing new. They began this strategy late last year in 2011 but my question is more that of Fedex advertising the availability of Square at their storefronts for a price via email. Being an avid internet person, I find it almost distasteful and disrespectful that FedEx would try to influence me to purchase a Square credit card reader when I could easily obtain one at an incredible price of $0. Even if I could get over the fact that they're trying to sell me something that is essentially free, even $7.99 is a bit steep for it and I can only imagine that this item is carrying a very large profit margin for them.
It's all about intended demographics. You do not try and sell ice in Alaska nor sand in the Middle-East; you'll only end up getting "that" look.