The Reasons I'm Leaving Scottrade
March 19, 2013
So it seems my recent blog, Scottrade is Forcing Customers to Use Scottrade Bank, has gathered quite a bit of interest from friends, colleagues, readers, and especially Scottrade. Since posting my blog on March 15, 2013, I've been contacted by Scottrade via phone by the local branch manager and via Twitter by what I'm assuming is Scottrade's PR department/agency. In fact, Scottrade has also followed me on Twitter.
Now that I've gathered such attention from Scottrade, I feel I need to expand upon my reasons for leaving in hopes that my criticisms and feedback can be taken constructively and used to improve the experience of existing and future customers.
Scottrade's latest move to remove check writing privileges on their brokerage accounts and force customers to use Scottrade Bank was really just, as they say, the nail in the coffin for me. Although the local branch manager expressed that "they're not forcing anybody", how else are you suppose to withdraw your funds? After they remove check writing/ATM/check card privileges, the only two other options left would be wire transfer ($25 fee from Scottrade + any fee that your bank may charge) or requesting a mailed check from your local branch (which must be mailed and can not be picked up). If you want the convenience of check writing, or an ATM card, or ACH transfers, just like we used to have on a brokerage account, then you must open a Scottrade Bank account. So sure, you're not being forced to open an account, but in all honesty, are we not really?
Don't get me wrong; I've loved my service with Scottrade and wish it had not come to this. But here are several reasons that accumulated to my decision to leave:
Reasons Why I'm Leaving Scottrade
Lack of DRIPs: When I started investing, I knew very little about stocks. Scottrade was my first brokerage and my introduction to the world of investing in stocks. As my knowledge grew, I learned about DRIPs (Dividend Reinvestment Plans). Unfortunately, Scottrade does not offer stock DRIPs. Over time, this began to be a growing concern since I was investing in higher than average yield dividend stocks.

The only way I could reinvest the dividends was by making a stock purchase that carried a $7 fee. To keep my investing cost ratio low, I only make stock purchases at a minimum of $2,000. If I ever begin doing short-term trading, my minimum would be at least $5,000 per transaction. Without a DRIP, I would have to wait till I made a stock purchase to reinvest any dividends I would receive instead of having those dividends automatically reinvested at a much lower cost, if not free (as offered by several of Scottrade's competitors). I had been assured by customer service in the last year that they're working on introducing this for customers; so far, nothing yet.


Dissolution of FocusShares ETFs: This one stung a little for me. Prior to investing in stocks, I began investing in ETFs. I saw ETFs as a good way to automatically diversify my investments with a lower balance and at lower expense ratios than mutual funds. The fact that Scottrade had commission-free ETFs meant that I could treat these almost like mutual funds and take advantage of monthly investing and cost averaging. I chose some industry specific ETFs that ended up being a good mix. Everything was going well until suddenly Scottrade announced that they were dissolving the ETFs.



I was barely shy of a full year on these investments so my gains became short-term capital gains instead of long-term capital gains.

Given my tax rate that year, that meant a 10% loss on my gains. My intention was to make sure those ETF investments got taxed at long-term capital gains. In hindsight, I'm now glad that it happened because it convinced me to take the dive into buying stocks directly; which in the past year has earned me a 28% return. By the time my ETF's were dissolved, I had enough capital to have a diversified portfolio of stocks. Nonetheless, I still took a 10% loss on the gains from the ETFs.


Check Writing/Scottrade Bank Issue: This is in reference to my latest blog, Scottrade is Forcing Customers to Use Scottrade Bank. There is not much to add to what's already been said. When I first tried to sign up for check writing privileges on my brokerage account, I received resistance from the local branch. Initially they were trying to convince me to open a Scottrade Bank Account. When I was persistent about it, they finally brought me the form that I needed to fill out to get checks and an ATM check card to withdraw funds from my brokerage account.

In all honesty, I had no intention of writing checks to myself, instead I just needed the account and routing numbers from the checks to set up ACH transfers to my primary bank accounts at USAA and Chase. Suddenly, two months later, I get a notice that Scottrade is now cancelling check writing/ATM privileges. Not only did Scottrade miscommunicate this by sending me an email that my check writing privileges were being cancelled due to inactivity (although I had been using it via ACH transfers), but they were once again pushing for me to open a Scottrade Bank account. I won't repeat my objections but instead invite you to read my previous blog.

The Competition and Alternatives
Is Scottrade alienating their current customer base with their latest insistence of having customers open a Scottrade Bank account? I don't have the answer and only they'll know what their numbers are reflecting. But for me, the fact that their major competitors (TDAmeritrade, TradeKing, E-Trade, Fidelity, Schawb):
Don't require their own bank account for you to ACH transfer to external accounts.
Offer Dividend Reinvestment Plans (DRIPs).
Still have commission-free ETFs (except for TradeKing)
… all sums up to my decision to bid farewell to Scottrade and seek an alternative. Scottrade has written to me on Twitter to express their thoughts: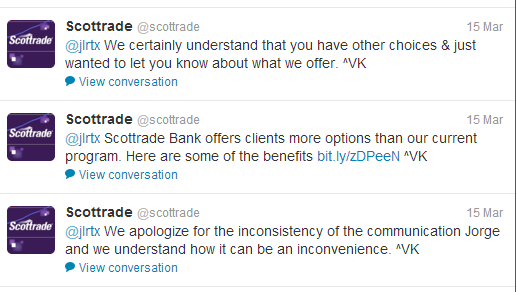 I responded with: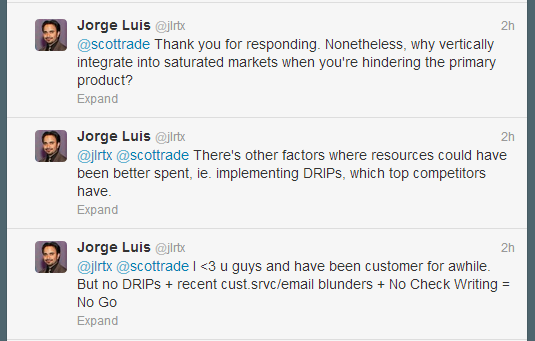 Stay up to date, follow me on Twitter
Twitter's 140 character limit dramatically reduced my ability to comprehensively respond to Scottrade via Twitter, hence this blog.
Although they mentioned that Scottrade Bank offers more options than their current program, I hardly think they stand out. Scottrade already had the Bank Deposit Program which swept cash funds in your brokerage account to FDIC insured banks and back. Additionally, the interest rates earned at Scottrade Bank are nowhere close to what you can get at ING Direct (now Capital One 360), American Express Savings, or Ally. You could already write checks and you had an ATM/check card.
The only other features that I can imagine are the overdraft protection, Bill Pay, Savings/CD, which in all honesty I have little use for and anyone with a bank account at any major bank (Wells Fargo, Chase, USAA, BBVA Compass, Citigroup, Bank of America, HSBC, Ally, Capital One) would already have such features and more (ie. auto loans, home loans, lines of credit, business accounts, local bank branches, safety-deposit boxes, native mobile apps, mobile check-deposit, etc).
Scottrade Bank – The New Main Focus
A couple of excerpts regarding Scottrade Bank from Scottrade's 2012-2013 Annual Report:
According to their Annual Report, this is the first full year that Scottrade Bank has offered retail services to its customers. Ironically, the cancellation of check-writing/ATM card privileges on their brokerage accounts coincides with Scottrade's statement that their "account base [is] growing steadily every week". No doubt this will continue to be true, especially since for all intents and purposes, their brokerage customers basically are being forced to open an account in order to have the same check writing/ATM card withdrawal options as before.
My main objection is not about Scottrade Bank; it's about how services were removed from the brokerage accounts to persuade us to open a Scottrade Bank account. If Scottrade had not terminated its check writing/ATM card privileges on their brokerage accounts, I would have still been an ongoing customer. So with that said and after a very careful thorough consideration…
I'm out.
Related Posts:
No comments yet.

about 9 years ago - No comments
Ironic how my last blog was titled, "How Scottrade Won My Business Back", but this time around, I'm definitely leaving Scottrade and no longer recommending it to others. Related Posts:Personal Workout Challenge: October Performance – Slow But SteadyHow I Got $125 Bonus for Opening a Checking Account with ING DirectIt's Here Again, Subway's $2 Customer…