Posts tagged
marketing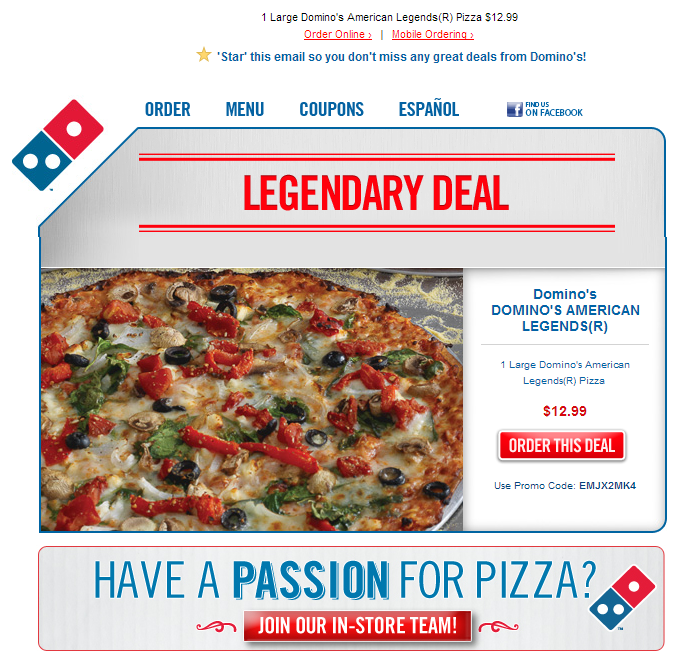 I eagerly awaited the pizza email blasts I would be receiving today. Pizza and beer go hand-in-hand with the Super Bowl. Already this morning, my first thought to myself was, "Buy Pizza."
The Domino's Pizza Email Blast
The first email I received this morning at 11:36am CST was from Domino's Pizza with the subject, "Score a great deal today from Domino's."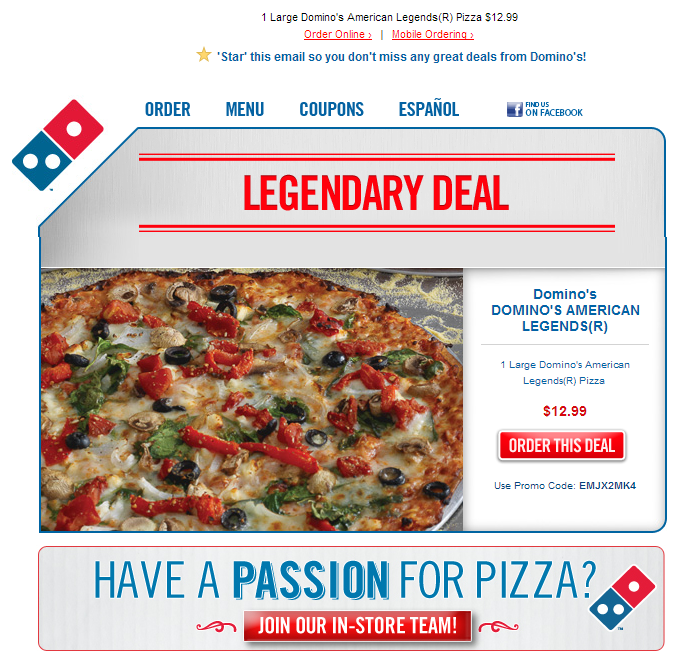 First Impression
I wasn't really that amazed by this email blast. Nothing really drew my eye, well except for that pizza. But even with that photo, the pizza doesn't look appealing. Perhaps if they would bump up the contrast and make the colors pop a bit more.
The emphasis of this email is the deal price of the Domino's American Legend Pizza. So why is the price so small and almost lost in the copy?
Why is so much space dedicated to a hiring call-to-action? I would imagine that only a very small subset of the email's target audience would actually be searching for employment. Dedicating such a large portion and driving attention away from today's promotion for a message that only applies to a small slice of the target-list does not make sense. That space could have been better used in my opinion.
The relation between the Super Bowl and this email is a bit on the weak side. The only slight reference is in the subject, "Score a great deal…" Other than that, I don't see the email attempting to form a direct relationship between pizza and the Super Bowl.
The Pizza Hut Email Blast
I have to give it to Pizza Hut, the timing was perfect. While I received the email blast from Domino's at 11:36am CST, I received the one from Pizza Hut at 3:13pm CST. With the game only a couple of hours away, Pizza Hut sent out their call-to-action much closer to the decision making point.
Email subject: "$10 Any: Big Deal for the Big Game"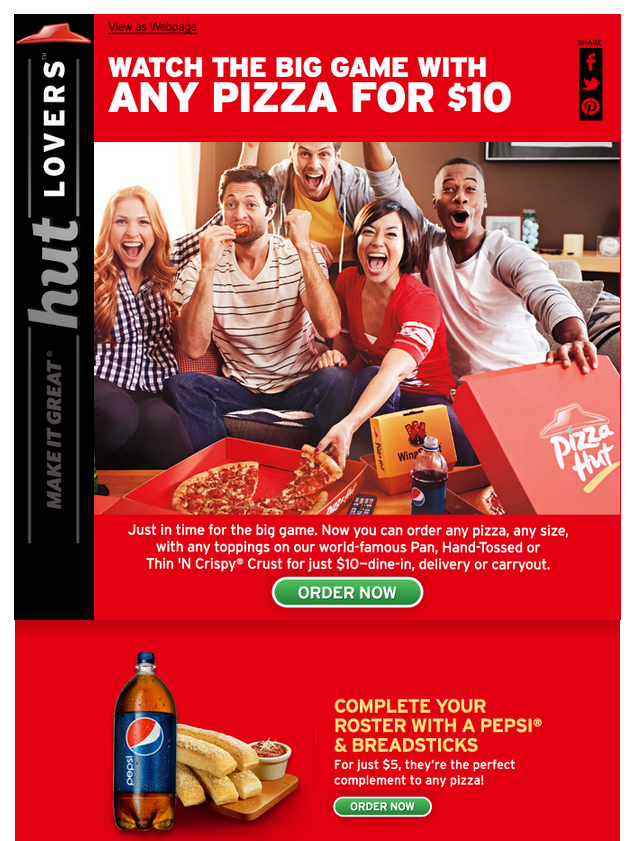 First Impressions
I prefer the subject line for Pizza Hut's, "$10 Any: Big Deal for the Big Game". Not only does it give an eye-popping prize for impulse buyers, but it also has a strong correlation with the Super Bowl. Pizza Hut's subject line made me want to click on it more to read the email blast versus that from Domino's.
I really like the design of Pizza Hut's email blast versus that of Domino's. It's simple, it's direct, and it pops. The colors work well together and the right elements have great contrast. "Watch The Big Game With Any Pizza for $10" is large and bold taking the center of attention as it should be. Not only does it stand out, but it repeats the promotion from the subject line.
In addition, I like the fact that the entire design of the email is focused on the "Big Game" and creating that correlation with pizza and the Super Bowl. The photo used of a group of friends watching a big moment in the big game while enjoying Pizza Hut is classic. The photo in this email leaves a much better impression than the one in the email blast from Domino's.
I also like the fact that Pizza Hut has an upsell in their call-to-action in the email. There was no upsell in the email blast from Domino's except if you considered the "Would you like to work for Domino's?" call-to-action. You don't see Pizza Hut trying to recruit it's email-list and correctly target the message for today,
Overall, Pizza Hut just gave a great 101 lesson to Domino's when it comes to email blasts. Not only was Pizza Hut's email blast more directly tied in with the Super Bowl, but the overall design, use of colors, upsell opportunity, and call-to-action was more refined and polished hands down.

I just received the following Tweet from JCPenney…

Honestly, the first thing that struck out to me was the use of the word "Tweeps." Now, I don't know if I'm thinking about this too much, but is "tweeps" being used appropriately in this context? According to UrbanDictionary.com, Tweeps is defined as:
Tweep (or The Tweep) is a nick-name given to Michael Grosheim by Twitter Followers and Facebook Friends. Michael is the owner of TheSocialTweep.com.
A "tweep" is a Twitter user who is a rookie or a novice by virtue of their low number of tweets. It is also someone on the bottom of the Twitter hierarchy. The opposite of "tweep" is "twitterian."…
Twitter Creep
A plaintive cry, usually on twitter: so a cross between tweet and weep.
I personally see the word "Tweeps" as a negative connotation. It is what got me to think in the first place about researching the overall lingo of "tweep." To me, when I first read it, it gave me a negative feeling and reminded me of the words "twerp" and "creep" meshed together.
Also what's up with "The Facebook"? Is the brand poking fun at itself by calling Facebook, "The Facebook" and putting it in quotations as if saying, "You know, that thing that everyone uses and you should be on it already but we're saying it in a way as if it's something we just learned about and started doing." I don't know, I just get an overall negative feeling from this tweet that to me does not help JCPenney's brand.
When I put together a Tweet or status update for a client, it usually takes me 10-20 minutes to compose it. I take many factors into consideration such as the overall meaning of words like "Tweeps" and how it may come across not only to the general audience, but to those that may not be familiar with the latest Twitter lingo.

Being a fellow professional in the marketing and advertising field, I know that at times those pesky little typos can sneak through and ruin a campaign. But there are times when I have to ask myself, "Seriously?"

A couple of things that irk me about this Facebook Wall post:
For the intended target market, the over-zealous use of exclamation points and random capitalization may be appropriate but it's very iffy. Any public relations expert will scream at the sight of so many grammatical blunders.
Is it cute and catchy? Yes, it does overall seem very personable which is great for social marketing. It stood out and would have received a slightly more than neutral reaction from me had it not been for the complete disregard to basic grammar. This does not come across as a clever well-placed intended type to draw interest; instead it comes across as being sloppy in not even glancing over what you're about to publish to hundreds of people.