Posts tagged
chase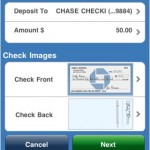 No more going to the bank to make check deposits. Just take a picture of a check with your phone and deposit from the iPhone. This is almost convincing me to switch my Wachovia (soon-to-be Wells Fargo) account to Chase.
There are some limits imposed though… max. deposit per check, per day, and per month. Download the Chase App from the AppStore.
USAA and Chase now have mobile deposits… Wells Fargo, where you at?