Archive for
March, 2013

So it seems my recent blog, Scottrade is Forcing Customers to Use Scottrade Bank, has gathered quite a bit of interest from friends, colleagues, readers, and especially Scottrade. Since posting my blog on March 15, 2013, I've been contacted by Scottrade via phone by the local branch manager and via Twitter by what I'm assuming is Scottrade's PR department/agency. In fact, Scottrade has also followed me on Twitter.
Now that I've gathered such attention from Scottrade, I feel I need to expand upon my reasons for leaving in hopes that my criticisms and feedback can be taken constructively and used to improve the experience of existing and future customers. More >

A couple of days ago I received an email from Scottrade notifying me that my check writing privileges for my brokerage account were being terminated due to inactivity for over a year. They nicely recommend that I open a Scottrade Bank Account instead. Ironically, I just recently signed up for check writing privileges about two months ago and have actually used it.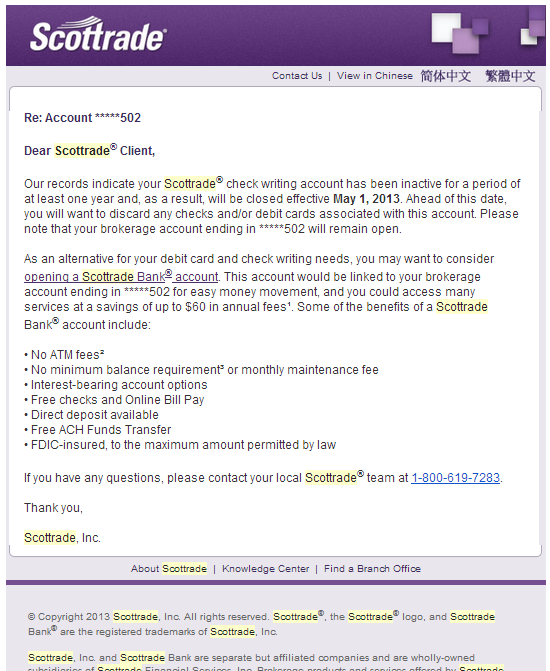 What the local branch says
I called my local branch office to see what the deal was. I was informed by the local representative at the branch that Scottrade is actually phasing out and cancelling all debit/check cards and check writing privileges for their brokerage accounts. Not quite the message I get from the email I received, but I can see why they're doing this on the down low. The representative briefly tried to up-sell me on opening a Scottrade Bank Account where I can transfer funds easily. Here's the thing though…
I really don't need another bank account. I've actually been trying to reduce my number of accounts. I have too many bank accounts and do not want to add another one to the list. Currently, to withdraw funds from my brokerage account, I initiate an ACH transfer from my personal checking account with another institution that I'm completely happy with. Now that Scottrade is removing check writing/ACH privileges from the brokerage account, I would have to open up a Scottrade Bank account, then transfer from my brokerage account to my Scottrade Bank account, then initiate an ACH transfer from my personal checking account.
It's one more step and one more thing to keep a track off that I shouldn't have to. There are many brokerages out in the market that offer ACH transfers. Some time ago I wrote about how Scottrade implemented a transfer-out fee for the first time in years. Now I know why they did. I explained my opinion to the local rep on the phone and although he didn't come straight out and agreed, he did say, "I definitely understand and let me just put it this way… I have been made aware [by managers] that this is a growing concern and ummm… well I'll just leave it at that." So there's definitely been some resentment among other customers at Scottrade.
I'm out…
I for one will be transferring my account to another brokerage. There's plenty of other brokerages out there that are willing to cover my transfer-out fees. Overall Scottrade has been good to me for the past several years, but I'm not liking this new direction they're taking.

Roku recently announced a new addition to their line of media streaming devices designated as "Roku 3". I became a Roku fan when back in the day they were one of the few devices on the market to have Amazon Instant Video streaming. Most of their competitors (PS3, Apple, SmartTV's, BD players, etc) were only carrying the big names like Netflix, Hulu, and Vudu.
The introduction of the Roku 3 brings along a couple of new things for Roku fans: