Posts tagged
amazon.com

So several weeks ago I was walking in Home Depot and came across the new Cree LED light bulbs and their incredible pricing… about $10 a bulb. I had been thinking about going LED for my home but the cost was still a bit prohibitive. All the other bulbs were running at least $20 each and with about 40 A19 bulbs (the regular ones) and 10 R30 (recessed lighting), it was going to be a major investment. When Cree partnered up with Home Depot to offer affordable LED bulbs in the 40W, 65W range and either warm 2700k or 5000k day light, I thought I found the ones. But then… 

I just received an email on today's LivingSocial Deal for a "Shazzam Tsunami Rechargeable Electric Hydroflosser with Included Shipping":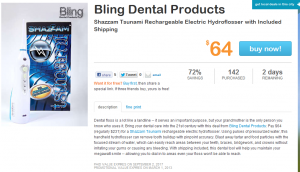 LivingSocial claims a 72% savings. So you would think this is definitely a great deal. Imagine getting something for $64 that was originally $231. However this is clear deception because I found the exact same product on Amazon.com for less… a lot less… almost half of the LivingSocial deal.
You can get the Professional Rechargeable Oral Irrigator with High Capacity Water Tank by ToiletTree Products on Amazon.com for a mere $39.95.
As the group discount sites deal with slower traffic and businesses that are realizing that it may not be to their benefit, they're are desperately trying to turn an income by no longer delivering value to their target base; which ironically will be the demise of these group coupon sites. I feel for the 142 and counting people who have purchased the inferior LivingSocial Deal.
Recently I've turned my attention to FatWallet who's overall goal is to deliver value to their target base. I also found a very strong community of people who are actively looking for value in their purchases. I would say, put these "Groupon" sites on the backburner and give FatWallet a try… perhaps you'll find real value instead of a "deal" that's not really a deal.