Monthly Investment Portfolio Update: Still Outperforming DJIA & S&P
June 16, 2012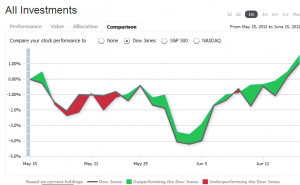 My investment portfolio keeps beating the Dow Jones, S&P 500, and the NASDAQ which I'm overly happy about. The act of investing in certain industry-specific ETF's has developed a diversified portfolio that at the same time can be some-what aggressive.
Although my portfolio has done well as the stock market overall hasn't been having a great time these past couple of months, I wonder if my portfolio will keep outperforming the major indexes as the stock market recovers. My current hypothesis is that the performance of my portfolio may not outperform the indexes during a time of significant growth due to my hedge strategy holdings in the utilities sector. About 30% of my portfolio is in the financial sector which has attributed to a good portion of my gains these past couple of weeks, so that's been encouraging and may keep my portfolio in a state of outperforming the indexes during a growth period.
What's Next
I will not be adding to my portfolio till early September. Although the week ended off well due to involvement of several central banks in keeping the Euro zone from falling apart, I feel that there's still a good chance that stocks will be negatively influenced by it in the near future. In addition, several economic indicators are beginning to slow down in the US that I feel will be reflected in the stock market in the next couple of weeks.
However, with it being an election year, I can only imagine that our government will have a direct and/or indirect manner to boast the economy shortly before the elections. For this reason, I will look into adding to my portfolio beginning September with a heavy emphasis on the financial and consumer defensive sectors.
Investment Portfolio Performance Past 6 Months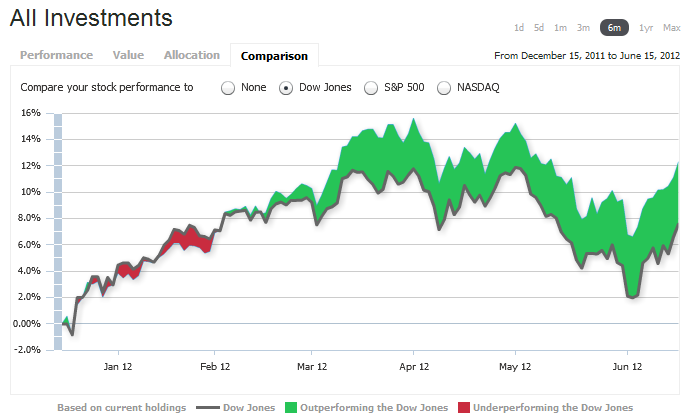 Related Posts:
No comments yet.
No trackbacks yet.

about 7 years ago - No comments
Ironic how my last blog was titled, "How Scottrade Won My Business Back", but this time around, I'm definitely leaving Scottrade and no longer recommending it to others. Related Posts:Monthly Investment Portfolio Update: Still Outperforming DJIA & S&PMy Personal Workout Challenge: The IntroductionHow I Got $125 Bonus for Opening a Checking Account with ING Direct