Surprise, Surprise, Netflix Takes Big Hit on Stock
September 19, 2011
I wonder if Mr. Reed Hastings saw this coming 10 weeks ago. It was exactly 10 weeks ago on July 11, 2011, that Netflix was polishing and preparing to send out an email to their millions of subscribers the following morning letting them know of the price increase. At that time, Netflix (NFLX) had a stock price of $289.14 per share. The day after, on July 12, 2011, Netflix announces its price increase and failed at damage control. About seven and a half weeks later, Netflix announces that they're losing Starz. At only 17 days after that, Netflix CEO gives his apology but with a twist in the form of Qwikster. So what do the shareholders think of this?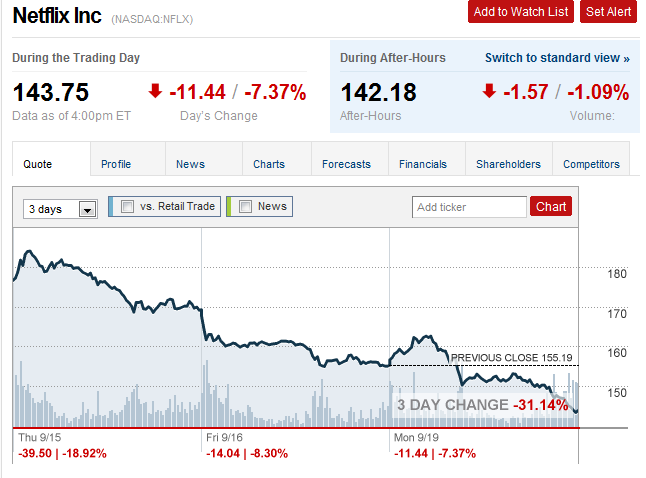 As of 6:30pm CST, Netflix has lost almost 10% in one day; that's huge for one day. Not only that, but since July 11, the day before this Netflix nightmare began, Netflix has lost more than half its value (going from $289.14 to $142.18).
The consumers have spoken. The shareholders have spoken. Netflix, it's your move but it may already be too little too late.
Here's a related video that the folks at Netflix should watch:
Related Posts:
No comments yet.
No trackbacks yet.

about 6 years ago - No comments
Ironic how my last blog was titled, "How Scottrade Won My Business Back", but this time around, I'm definitely leaving Scottrade and no longer recommending it to others. Related Posts:The Netflix Alternative: Hulu / RedboxSometimes a Deal isn't a Deal on Daily Deal Sites Like Groupon and LivingSocialHow Scottrade Won My Business Back